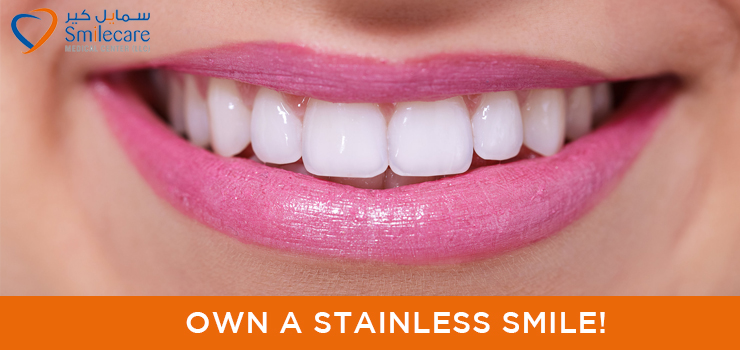 Owning a beautiful set of teeth with a shiny fairness is one of the ways to make a signature of your personality. Now you must be looking in the mirror and checking your teeth. So, are you planning to make it whiter or fairer? Then this write-up can help you in giving some idea about
teeth whitening
.
Teeth whitening
is a dental treatment to enhance the color of your teeth by removing stains.
Teeth whitening in  al warqa Dubai
has obtained much popularity since cosmetic dentistry is the new trend.
Teeth whitening in  Al Warqa Dubai
There can be many reasons for discoloring of the teeth. It can be because of the food, caffeine drinks such as tea & coffee, red wine, smoking etc.  Calculus and tartar can also be the reason for the color on the teeth. Continuous medication, especially antibiotics can leave a stain on the surface of the teeth. There are several methods for the teeth whitening. One of the most common methods is that of professional bleaching. It can be done once in six months according to your dental conditions. The procedure is simple and painless. Initially, the dentist analyses your teeth and gum condition and recommends which treatment is suitable for you. For the bleaching, they will apply a gel on your teeth for guarding it against the chemicals and then move ahead on applying active ingredients such as hydrogen peroxide or carbamide peroxide. When the active ingredient is broken down, oxygen gets into the enamel on the teeth and the tooth color is made lighter. There is laser treatment available for the same. The result for the same can be faster and long-lasting. The ingredients for whitening will be activated through laser and it takes less than 30 minutes for the procedure. There are other treatments which can be continued for a month or half depending upon the teeth. Laser treatment can be bit more expensive than the normal whitening. There are many dental clinics and experts who can help you in getting your shining pair of teeth.
Teeth whitening
is very famous because of the wide variety of modern technologies and expert guidance.