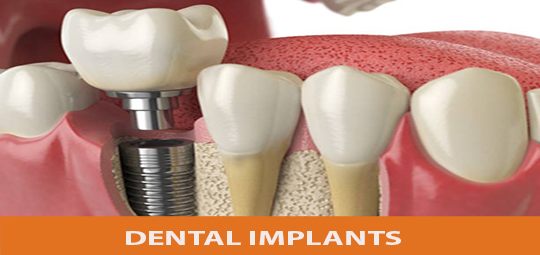 What are Dental Implants?
Dental implants are metal (titanium) posts or frames that are surgically positioned into the jawbone beneath your gums. Once in place, they allow your dentist to mount replacement teeth onto them.
How do Dental Implants Work?
Because implants fuse to your jawbone, they provide stable support for artificial teeth. Dentures and bridges mounted to implants won't slip or shift in your mouth — an especially important benefit when eating and speaking. This secure fit helps the dentures and bridges — as well as individual crowns placed over implants — feel more natural than conventional bridges or dentures. Dental implants also benefit general oral health because they do not have to be anchored to other teeth, like bridges.
The American Dental Association considers two types of implants to be safe. They are:
Endosteal implants— these are surgically implanted directly into the jawbone. Once the surrounding gum tissue has healed, a second surgery is needed to connect a post to the original implant. Finally, an artificial tooth (or teeth) is attached to the post-individually, or grouped on a bridge or denture. This is the most commonly done type of impant.
Subperiosteal implants— these consist of a metal frame that is fitted onto the jawbone just below the gum tissue. As the gums heal, the frame becomes fixed to the jawbone. Posts, which are attached to the frame, protrude through the gums. As with endosteal implants, artificial teeth are then mounted to the posts.Not longer done regularly.
Oral Care Specifics to IMPLANTS
If you are considering implants, you must have healthy gums and adequate bone to support the implant. If your bone is too thin or soft and unable to support an implant, you may require a bone graft. Or if there is not enough bone height in the upper jaw or the sinuses are too close to the jaw, you may require a sinus lift. . You must also commit to keeping these structures healthy. Meticulous oral hygiene and regular dental visits are critical to the long-term success of dental implants.
At Smilecare medical center, the patients are assured of quality service provided by experienced professionals in a pain-free procedure. So opt for dental implants to replace your missing tooth and get that perfect smile back for a happier and more confident social life. For more information visit our website www.smilecaredubai.com or contact us on +971 6 577 5262