Beautiful smiles, forever! Smilecare is a progressive center for orthodontics that delivers the best dental care available today.
Adult Orthodontics (Braces)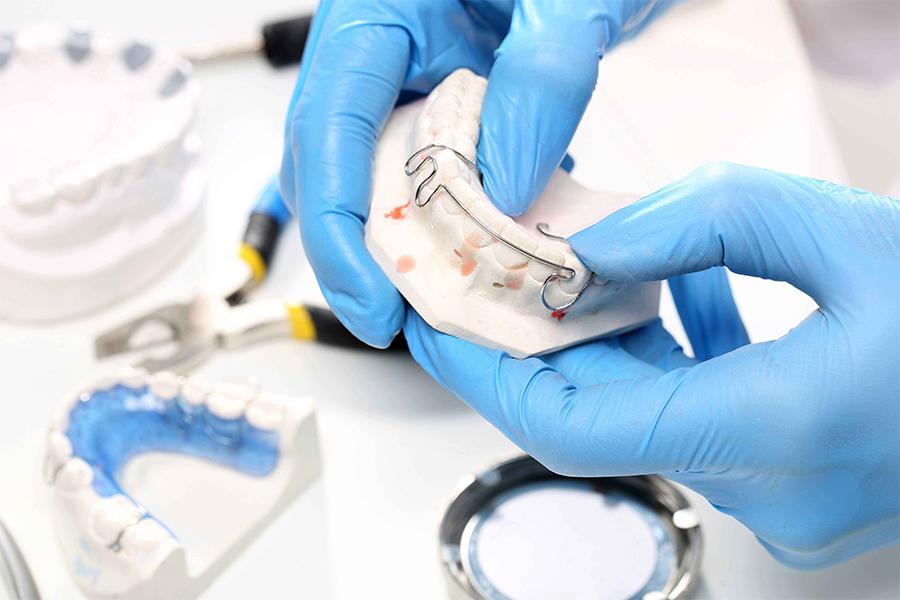 These days, adults make up nearly half of orthodontic patients hoping to finally get the perfect smile they've always dream about. Teeth can shift with age – because of injury, a condition called tongue thrust, or natural growth – and some adults find that their previously straight teeth have become crooked and overcrowded. They may start experiencing jaw pain, having difficulty properly cleaning their teeth, or simply having an unattractive smile. As a solution to this, the average adult will need to wear braces for 18 months to three years. Instead of metal, one can opt for clear or tooth-colored ceramic braces, or removable invisible aligners.
Best Orthodontists in dubai
Interceptive Orthodontics
Interceptive Orthodontics is an important part of early dental care for young children. This involves diagnosing and treating malocclusions as soon as they are detected. The goal is to provide adequate space for permanent teeth to come in. Treatment may require a space maintainer to hold space for a primary (baby) tooth lost too early or removal of primary teeth that do not come out on their own in order to create room for permanent teeth. Examples of this kind of orthodontic treatment may include correction of thumb and finger-sucking habits, guiding permanent teeth into desired positions through tooth removal or tooth size adjustment.
Invisalign®
Is the thought of teeth straightening causing you anxiety? Then Invisalign will give you solace. This is a unique technology that straightens teeth using a series of almost invisible, removable aligners that are custom-made for your teeth. Wearing the aligners will gradually and gently shift your teeth into place. There are no metal brackets to attach and no wires to tighten.
Invisalign® Procedure
The total treatment time averages from 6 to 14 months.You will be given a series of customized trays designed to progressively straighten your teeth over several months. Each set of aligners is worn for two weeks, and then replaced with the next in the series.
Since the aligners are clear, they are virtually undetectable when worn. Also, since the aligners are removable, better oral hygiene can be achieved.
Benefits of Invisalign over regular braces:
Clear, discreet teeth aligners Removable for eating, drinking, brushing and flossing No broken wires or other problems associated with braces that may necessitate an office visit for fixes and adjustments Less treatment time to achieve optimal results
Incognito (Lingual) Orthodontics
Lingual braces are orthodontic devices used to straighten teeth like traditional braces, but unlike traditional braces, lingual braces are fixed to the back of teeth instead of to the front. This is why lingual braces are often referred to as invisible braces. This allows people to go about their daily routine without feeling self-conscious because their braces are virtually invisible from the outside. Incognito braces are suitable for all age groups – children, adolescents and adults who want to correct their tooth position.
Damon System
Maximum comfort and better results are the differentiating factors of Damon Clear. This system combines the best of traditional clear braces and invisible aligners to deliver a discrete treatment experience with results that go beyond straight teeth. You will witness a great change not only in the teeth but also enhanced facial balance and aesthetics.
The system puts the little pressure on the patients and is suitable for both kids as well as adults.
Benefits of Damon Clear
Fast treatment
Greater comfort without tightening
No speech impediments
Easy to keep clean
Clear Path
This is a technology, approved by FDA, which revolutionizes the way malocclusions are treated. All you have to do is wear a series of clear wafer thin transparent removable aligners, which gently guide your teeth from their present to the desired position to give you the perfect smile you always desired! ClearPath successfully completed a number of clinical trial cases before it was introduced for clinical use in 2008. It was incorporated in 2007 and now it has extended its customer base across the globe.
Mini Screws
Most practitioners currently prefer to use mini screws for combined orthodontic treatment. Mini screws are available in favorable sizes, have low costs and are simple to insert and remove; therefore, they can be easily placed by an orthodontist with minimal tissue invasion. Mini screws obtain their stability mainly from mechanical retention in the bone so they can be loaded immediately after placement.